Herzog-Meier Mazda: First-Class Maintenance & Repairs
UPDATE: Takata Airbag Inflator Recall
The Takata air bag inflator recall affects more than 42 million vehicles across 19 automobile manufacturers in the US.  This includes 34 brands (e.g. Acura, Honda, Chevrolet, Ford, Ferrari, Mazda, Toyota, etc.).  This is a serious issue which can result in injury or death if not addressed.  Please take a moment to see if your vehicle is affected by the Takata air bag recall. If so, contact your local dealer to schedule an appointment as soon as possible to have the recall completed for FREE.  Mazda owners should log on to
mazdarecallinfo.com
, and for other vehicle brands please visit
nhtsa.gov
. 
PRIDE AND EXPERIENCE: That's the Herzog-Meier Difference
PRIDE:
We take pride in delivering exceptional maintenance, so our guests have the longest lasting vehicles on the road. After our thorough inspection, we relay detailed information with multiple options, so every guest can make an educated decision regarding the repair and maintenance of their vehicle.
EXPERIENCE:
We know that providing a timely and positive experience will earn your trust and build a lasting relationship, so you will continue to visit Herzog-Meier Mazda for all your maintenance and repair needs.
SCHEDULE
SERVICE
SERVICE
SPECIALS
READ OUR
REVIEWS
HOURS AND
DIRECTIONS
MORE BENEFITS FOR YOU
You get more value at Herzog-Meier Mazda, because we offer more benefits than other local dealerships:
Early Bird Dropoff: Need to drop off your vehicle before we open? No problem... our early bird dropoff is a secure and convenient option.
Late Night Pick Up: If you need to pick up your vehicle after hours, we make it easy with our secure late night pick up option. Come grab your car any time that fits your schedule.
Online Scheduling: Whether you need routine maintenance or major repairs, your service appointment is just a click away with our easy online scheduling tool.
Loaner Vehicles Available: We offer affordable loaner vehicles while your Mazda is in for service, so you can go about your day without disruption.
Complimentary Shuttle Service: Need a ride back to work, or maybe you'd prefer to do some shopping while your vehicle maintenance is being completed? Let our free shuttle take you wherever you need to go.
Complimentary car wash: Every time you bring your Mazda in for maintenance or repair, we'll return it to you with a new shine.
Complimentary MAX/Transit passes: Your convenience is our top priority, so take advantage of our free MAX and Tri-Met bus passes to get where you need to be.
Comfortable and Modern Waiting Area: We've updated our customer waiting area with big screen TVs, comfortable chairs, a selection of snacks and drinks, and other perks to make you feel at home.
Fast WiFi and individual work stations: We know that servicing your Mazda is an interruption to your day, so we've made it easy to remain productive while you wait for the work to be completed.
Complimentary fresh fruit, cookies, coffee, tea and more: Enjoy some delicious snacks and drinks while you wait.
Kids play area: Keep your kids entertained in our dedicated kids room, complete with toys and child-appropriate TV programming.
Certified Advisors with your best interest at heart: All of our Service Advisors go through extensive training and follow our company mission: treat the guest like family, so they will come back again and again. 
Factory-Trained Master-Certified Technicians: Only the best and brightest technicians will perform the work on your Mazda so we can ensure it will be fixed right, the first time, in a timely manner.
A Company That Cares: We are a family-owned business that has been dedicated to the local Portland community for over 60 years. One step into our dealership and you feel the difference.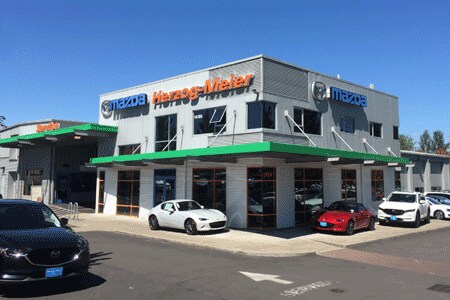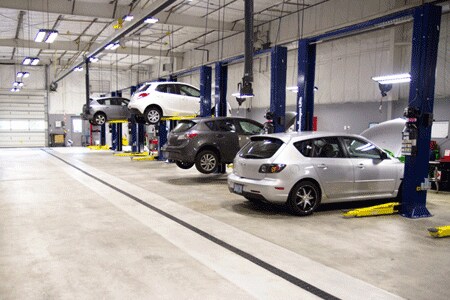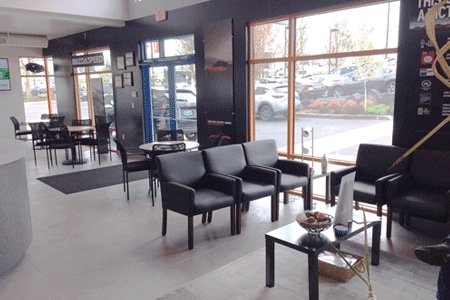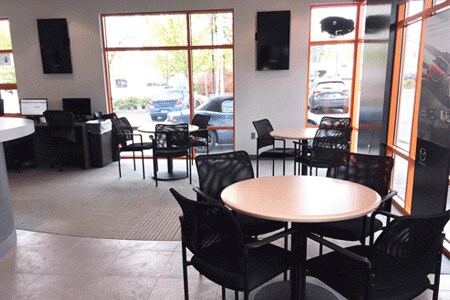 REAL CUSTOMERS. REAL REVIEWS.
What do other people think of Herzog-Meier Mazda?  Read our latest reviews below.
"I DEFINITELY RECOMMEND THEM" - Linda O.
Last Friday had our CX5 scheduled for some overdue maintenance, okay I'll admit I don't always jump on the recommendations when I should. Eric and Melissa got me scheduled and the service staff was great. Would definitely recommend Herzog Meier Mazda.
"FAST, FRIENDLY AND THOROUGH" - John M.
I brought the Mazda in for its 100K service. I was extremely well taken care of. Minor things fixed; major things replaced. The car looks new, again!
"NEVER BEEN TREATED THIS WELL" - James W.
I am blown away by the superior level of service that was provided to me in the service department. I have never been treated this well at any mechanic, service department, or oil change business in my life. I usually dread car service places because I often get patronized or talked to like a toddler because of my appearance... and have to explain that I know enough about cars (and how to use Google) to not be taken advantage of. But not this time.